Last month, I read OCD Love Story, a book about a teen girl struggling with OCD. Late last night, I finished yet another book about a girl with OCD. The two books, however, are very different in my humble opinion.
I struggled to get through OCD Love Story. It took me a month to finish it. My latest read, though, gripped me from the first page. The book was Every Last Word by Tamara Ireland Stone, and I finished the entire beautiful story in one sitting. (It's been quite some time since I've had the luxury of doing that. Thank the Maker that my summer vacation has begun!)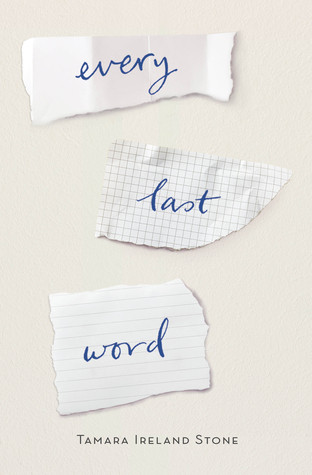 Every Last Word, which will be released next Tuesday, June 16th, introduces readers to Samantha McAllister. On the outside, Samantha seems to have it all. She's pretty, popular, smart, and athletic. On the inside, though, she's at the mercy of a constant stream of thoughts, some of which frighten her at times. Sam has Purely-Obsessional OCD, and no one outside of her family and her therapist know about her struggles with this disorder…and Sam needs to keep it that way.
Sam knows that one wrong move will forever damage her standing with her so-called friends, and it's becoming more and more difficult to keep her true self from the girls she's been close to since kindergarten. But if she loses them, Sam fears that she'll really go crazy, and she simply can't risk it.
Everything changes for Sam when she meets Caroline. Caroline seems to have a confidence that Sam longs for, and the two girls form an instant bond. Caroline leads Sam to a secret part of the school, Poet's Corner, a refuge for those who have no place else to go. Sam doesn't realize immediately that this hideaway may be exactly what she needs to finally express all of the thoughts that stay bottled up inside, but with Caroline's encouragement and a bit of attention from the guitar-playing AJ, Sam begins to find her true voice.
Sam is still struggling with her changing relationships with her oldest friends, but she's coming to realize that change can be good. Caroline, AJ, and Poet's Corner have given her a new perspective and made her realize that she's stronger than her OCD, and the "normal" she's always craved may finally be within her reach.
But what will happen when Sam realizes that her mind has betrayed her? What she thought was so real may just be a trick of her anxiety, and the realization could jeopardize everything Sam has fought so hard for this year. When the truth is revealed, she could end up losing not only her old friends but also the safety and love she's found in Poet's Corner…and AJ's arms.
Will Sam become a prisoner of her own mind once again? Or will she work through the maelstrom of emotions, thoughts, and worries that have held her back for so long? What will it take for her to become the person she so desperately wants to be?
_______________
It's been difficult for me to encapsulate this wonderful book into one short blog post. That's what happens to me when a book grabs me and won't let go. I grew very attached to Sam in this book, and the big reveal at the end quite simply tore me apart. I was doing a lot of ugly-crying, and it took me a long time to wind down when I finally finished Every Last Word.
Even though not every person who reads Every Last Word will identify with Sam's OCD, I do think every reader will relate to Sam's desire to fit in. I think we've all had those friends who we remain close to simply because it's too difficult to move on from them. I know I've held onto some toxic friends way too long because it was just easier.
Sam's journey throughout this book is a familiar one. She works to find her true self–through swimming, therapy, poetry, and friends who are truly there for her–and realizes just how lacking her old relationships have become. Is it difficult for her to separate from the girls she's held onto since childhood? Yes…but she can't grow into the person she wants to be while holding onto people who don't really know her anymore. (I'm still working on that one myself.)
I think Every Last Word, while a somewhat serious book at times, has elements of Mean Girls that many readers will recognize. Sam is working to move beyond the mean girls in her own life, and, even though the road is often rocky, she's slowly growing more comfortable in her own skin and her own mind, a huge deal for anyone suffering from any kind of mental illness. Finding Poet's Corner ultimately leads to Sam finding herself. All teens should be so lucky as to find that one group in high school where they can totally be themselves.
The author's note at the end of this book provides readers with a closer look at Purely-Obsessional OCD and the importance of a close patient-therapist bond in dealing with this disorder. It also leads readers to websites that may be useful in learning more about OCD and other anxiety disorders. That's something that was sorely lacking in OCD Love Story, so I'm glad to see it included in Every Last Word.
For further information on Every Last Word and Tamara Ireland Stone, you can connect with the author on her website, Twitter, or Goodreads.
Remember that Every Last Word comes out next Tuesday. Pick up a copy of your own! I hope you enjoy it as much as I did.
*Note to those who select books for middle grade readers: There is one sex scene in Every Last Word, but it is not gratuitous. Additionally, there is some mature language. That being said, this book may be okay for readers in eighth grade and up. As always, though, read the book yourself first, and use your best judgement when recommending this book to readers.*