Dearest readers, do you ever get to a point where you don't feel like reading much of anything? Well, that's been me for the past week or so. (I blame end-of-year testing and other assorted craziness at school.) I've cleaned off my DVR, spent some quality time with Netflix, and taken quite a few naps, but I just haven't had the energy to read much lately. Hopefully, though, I've turned a corner and can devote the more of my oh-so-valuable time to the books that mean so much to me.
Today, I bring you a book that took me nearly a month to get through, City of Saints & Thieves by Natalie C. Anderson. It's a good book, but it's not exactly an easy read. It's dark, gritty, and real, and, to be perfectly honest, that's not something I'm always in the mood for. I have to be in the right frame of mind to really delve into a book like this one, and I just haven't been there. I did, however, find the will to finish this book over the course of the past couple of days. While it was kind of slow to start, in my opinion, the action really picked up near the middle, and it didn't let up until the very end.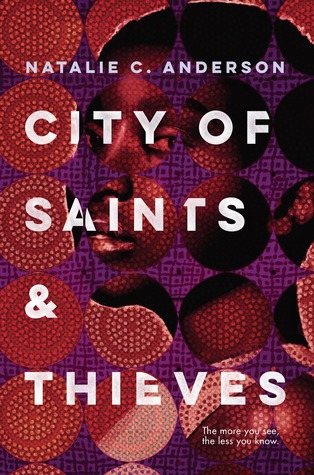 Tina, a girl surviving by her wits in the heart of Sangui City, Kenya, has her mind set on one thing–revenge. Her mother was brutally murdered five years ago, and Tina has made it her mission in life to make the killer pay. She thinks she knows who did the deed, and she's working with a local gang to bring the man to his knees. But what if she's wrong?
Tina believes with ever fiber of her being that Roland Greyhill, an influential businessman in Africa, murdered her mother. Mr. Greyhill had a relationship with Tina's mom, and they had a child together, but that didn't stop him from threatening her, an act that Tina witnessed late one night. Of course he's the one who made good on his threat. All Tina has to do is prove it…and that may be harder than she anticipated when Michael, her former friend and Mr. Greyhill's son, catches her breaking into the Greyhill estate.
After a somewhat rough reintroduction to each other, Michael convinces a reluctant Tina to at least consider the possibility that his father did not murder her mother. He had nothing to gain and everything to lose. So who else could have done it?
Tina and Michael, with some major assists from Tina's hacker friend, BoyBoy, go on the hunt for evidence that will either prove or disprove Mr. Greyhill's innocence. What they find, however, makes Tina question everything she thought she knew about her mother. What was she hiding? What really drove her from their home in the Congo to the Greyhill estate in Kenya? And could uncovering the truth of it all put Tina and her friends in the same crosshairs that were aimed at her mother?
Who really killed Tina's mother? Was it Mr. Greyhill, or is there another, more sinister, and even closer threat that Tina never could have imagined?
---
I hope I've at least piqued your interest with this post. Even though it took me a little while to get into this book, I did enjoy it, and I especially liked that the book featured non-Western perspectives. I haven't read many YA books set in Africa–that's my own fault–and this book definitely made me want to change that.
City of Saints & Thieves, in my opinion, is suited to a mature teen audience. Like I mentioned before, it is dark and gritty, and it does deal with issues like war, rape, murder, and the aftereffects of all of those things. The author's note at the end of the book indicates that a lot of what we see in the book is based on real events. For that reason, this book could be a springboard for discussions on the plights of women and refugees in Congo and other parts of the world.
If you'd like to learn more about City of Saints & Thieves, billed as a cross between The Girl with the Dragon Tattoo and Gone Girl, visit author Natalie C. Anderson's website. You can also follow the author on Facebook, Twitter, Instagram, or Pinterest.