Notice: You MUST read And I Darken, the first book in Kiersten White's Conqueror's Saga, before proceeding with this post. You've been warned.
If it's not readily apparent, I recently finished reading Now I Rise, the sequel to And I Darken. This series focuses on Lada and Radu Dracul, the children of Vlad Dracul, the inspiration for Dracula. Like I mentioned in the post on book one, this series presents an alternate history of this family. Vlad is not the brutal leader of legend here…but his daughter is.
In And I Darken, Lada and Radu were dealing with their complicated feelings for each other, their circumstances, and the new sultan, Mehmed. In Now I Rise, the complications continue. Lada has left Mehmed's side to reclaim the throne of Wallachia. Radu, on the other hand, has stayed with Mehmed, and that presents its own set of difficulties.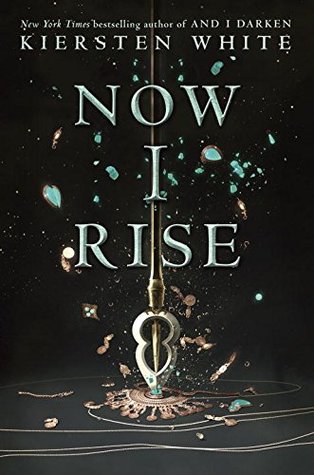 Lada Dracul is determined to be Prince of Wallachia. It does not matter that she is a woman. She's the rightful ruler, and she will take what's hers, by force if necessary. And it looks like force–and lots of it–are necessary. In her quest to rule, she strikes down anyone who gets in her way. She forges alliances that make her sick. She betrays those close to her. All of this to get her closer to the Wallachian throne. Yet even as she is on the cusp of achieving her goal, she misses her brother, Radu, and even Mehmed.
Lada knows that Radu's silver tongue and gift of diplomacy would get her closer to the throne. As for Mehmed, her feelings for him are a bit more complex. She misses how he makes her feel, but, at the same time, she refuses to place her future in a man's hands. Also, she doesn't fully trust Mehmed. He has seemingly thwarted her grab for power, and Lada knows he will do anything–including betray her–to further his own ends. She both loathes and respects that about him. After all, has she not done the same?
As for Radu, he remains completely loyal to Mehmed and the sultan's desire to conquer Constantinople. Radu does whatever he can to further the Ottoman cause, and, when Mehmed asks Radu to become a spy within Constantinople's walls, he reluctantly agrees. While Radu does not wish to be parted from Mehmed, he will do as Mehmed asks even as he ignores his sister's plea for help in her endeavors. Radu knows his feelings for Mehmed will likely never be returned, but he will continue to prove his love and loyalty to Mehmed…no matter what it costs.
While in Constantinople, Radu becomes more and more conflicted. Even as he's relaying information to the Ottomans, he's growing closer to those fighting for Emperor Constantine. How can he betray these people who have taken him in, shown him kindness, and trusted him? But how can he turn his back on Mehmed, who he loves more than all others? He's given up nearly everything for Mehmed, but is he willing to give up his very soul so that Mehmed can conquer a city that seems to be dying anyway?
Both Radu and Lada Dracul are wrestling with questions of loyalty, love, faith, and sacrifice. What are each of them willing to do to achieve their goals? What will they find themselves capable of? Betrayal? Murder? And what will be lost along the way?
---
Everything I said about And I Darken also applies to Now I Rise. I don't feel like writing all that again, so read the end of my post on And I Darken to get my full take on both of these books. In short, though, these books raise all sorts of questions on what a person is willing to do to serve their own ends, how love makes a person both strong and weak, what it means to be feminine, and how women who do not subscribe to societal expectations are viewed. And that barely even touches on the religious and historical aspects of the book. It's a lot to take in, and all of this stuff makes both And I Darken and Now I Rise as sumptuous as two decadent pieces of dark chocolate.
So…how does Now I Rise differ from And I Darken? Well, we get to know both Lada and Radu a bit more. These two characters get more complex with each page, and I'm sure that will continue in the next book. The biggest difference, though, is the elevated brutality. Radu is in the middle of a war zone, and he both witnesses and commits atrocities true to what is happening around him. Lada, in her quest for power, cuts down anyone in her path and leaves a trail of bodies behind her. There's nothing pretty, delicate, or civilized about her path to the Wallachian throne. She's vicious, brutal, and without mercy. She has to demonstrate to all that she is no pushover, and she's not shy about shedding blood to prove her point.
In case you're wondering, I would recommend both And I Darken and Now I Rise to a mature teen or adult audience. I doubt most middle grade readers are developmentally ready for books like these. They deal with political maneuvering, sexuality, betrayal, and the horrors of war, and I think reading and discussing these issues require a certain level of maturity. You may have a different take, but I urge you to read the books yourself before you make that determination.
Now I Rise will be released on June 27th. The third book in The Conqueror's Saga should be out next summer. To learn more about And I Darken and Now I Rise, visit the series' official website.