Turn back now if you haven't read Kiera Cass' Selection series up to this point (The Selection, The Elite, The One, The Heir, and the Happily Ever After collection). You've been warned.
As you've no doubt gathered, I recently finished reading The Crown, the final installment in The Selection series by Kiera Cass. I fell in love with this series almost four years ago. I'm sad to see it end, but I have to say that the finale was satisfying. It had a variety of conflicts, but all of them were–more or less–resolved by the end of the book, and it was very apparent just how far this family had come since we first met America and Maxon in The Selection and Eadlyn in The Heir.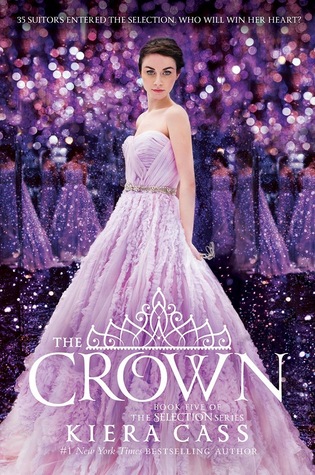 The Crown, of course, continues where The Heir concluded. Princess Eadlyn of Illéa is in the midst of her own Selection, but choosing her future husband is not the only thing she is dealing with.
Eadlyn's mother, beloved Queen America, has suffered a heart attack, and her father, King Maxon, refuses to leave his wife's side. That leaves running the country to Eadlyn, who is not exactly the people's favorite member of the royal family.
Eadlyn must try to do what's best for Illéa while convincing her people that she can be approachable, fair, sensitive, and empathetic…all while trying to figure out who of the remaining young men in the Selection will eventually rule beside her. No problem, right?
Almost against her will, Eadlyn has grown close to the men who are now part of the Elite. Each one of them would, in his own way, make a suitable companion for Eadlyn. But can Eadlyn truly love any of them? Perhaps, but Eadlyn wonders if it's possible for her to have a love like that shared by her parents. If so, could that one special man be right in front of her eyes?
While she's trying to choose a potential mate, Eadlyn also jumps into ruling Illéa as best she can. She tries to truly listen to the people and what they want, and an old friend seems to be intent on helping her do just that. Eadlyn values his insight and his connection to the people, but she's not thrilled that he seems to be making more out of their relationship than is really there. Could this young man be making his own bid for the future queen's heart, or is he working on an entirely different agenda?
It seems as though events are spiraling out of Eadlyn's control. How can she be an effective leader when she feels so overwhelmed? Can she do what's right by Illéa and her people, face the threats coming her way, and stay true to herself and her heart? Could her own happily ever after possibly be within reach? Read The Crown to find out!
---
I apologize if this post seems a little off. I'm on a lot of allergy meds right now. At the very least, I hope that I've whetted your appetite for The Crown without giving too much away.
I do think The Crown is a great conclusion to a wonderful series, and I, for one, love seeing how much Eadlyn grew as a person from the last book through this one. She really comes into her own. I also appreciate seeing how things end up for the characters encountered in the first three books in this series. A nice bit of resolution there, and there's even a surprise revelation that I was not expecting. Good stuff.
For more information on The Crown, the entire Selection series, or author Kiera Cass, visit the author's website, Twitter, or Facebook. You may also want to take a look at the official book trailer for The Crown below. It perfectly sets the mood for this outstanding book. Enjoy!