I don't know quite where to begin. I finished reading Three Dark Crowns by Kendare Blake a few hours ago, and I'm still processing what happened in this book, particularly the batcrap crazy ending. (I mean that in the best way.) This book is convoluted and vicious–perfect for fans of Kiersten White's And I Darken and Sabaa Tahir's An Ember in the Ashes–and I can hardly wait for more.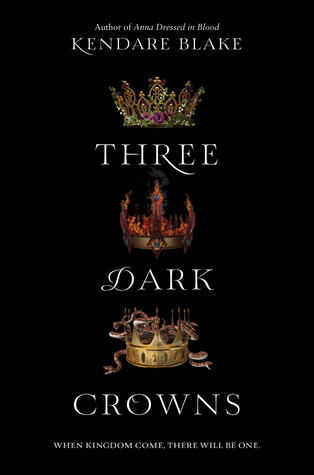 On the mysterious island of Fennbirn, three sisters–triplets–vie to be the last queen standing. Separated at an early age, the girls grow up knowing that they may one day have to kill their sisters in order to claim the crown. Each queen is supposed to be endowed with her own special brand of magic, and the strength of that magic could lead one of the young women to rule.
Katharine is a poisoner. She should be able to ingest even the most dangerous poison with no consequences. She can craft poisons with the best of them, but she cannot yet consume toxins without being violently ill. If her gift does not arrive soon–before Beltane–she fears that her quest for the throne will be short-lived.
Arsinoe is in a similar situation. She is a naturalist, but she cannot yet control even the smallest portion of the natural world around her, and there is no sign of her animal familiar on the horizon. Her companion, Jules, a powerful naturalist in her own right, has been trying to coax Arsinoe's gift out of hiding, but the only magic Arsinoe experiences–dangerous spells performed with her own blood–may come with a cost more dire than she realizes.
Mirabella is widely considered to be the front-runner for the crown. She is a powerful elemental, and she has been controlling wind, fire, water, and earth for years. But Mirabella wonders if she's truly capable of killing her sisters when the time comes. She remembers with fondness their lives before they were separated, and her unwillingness to do her sisters harm is viewed as weakness by those in power. Her path to the throne may seem clear, but her own feelings may cloud the way.
Each of these three sisters are attempting to figure out where they stand in Fennbirn, but they are running out of time to come to terms with their destinies. Their quests for the crown truly begin at the upcoming Beltane celebration. After that, two of them must die so that one can be queen. Add in questions about their gifts, power struggles from without and within, suitors vying for their hands, betrayal, and their own often conflicted feelings, and something has to give.
Will Katharine and Arsinoe receive their gifts before Beltane? If not, can they make others believe they are fit to be queen? Is Mirabella truly the most powerful of the three and destined to be the sole queen? Or does fate have something else in store for these sisters and those who would see them killed or crowned?
---
I've left out A LOT here, but I didn't want to give too much away. I will say, however, that it's difficult to determine which of the sisters–if any–should truly be queen. I felt sympathy with each of them at different points, but I can't say that I was really rooting for any of them. As a matter of fact, I didn't really like the sisters throughout much of the book. Jules, Arsinoe's companion, was probably the only character in the book that I 100% liked. That's okay, though. I think my conflicted feelings on these characters are exactly what the author intended. Nothing is clear cut in this book, and that makes things very intriguing.
For those wondering if Three Dark Crowns is a good fit for middle grade readers, I have to say…I'm not sure. It is brutal, and there are some sexy times (which are kind of understated). Some middle grade readers may be able to handle it; others won't. I would probably recommend this book to grades 8 and up, but I urge you to read the book for yourself if you work with tweens and young teens. You know your readers better than I do.
The next book in this series, One Dark Throne, comes out on September 19th. There will also be a prequel novella, The Young Queens, released on December 26th. Lots to look forward to in this exciting series!
For more information on Three Dark Crowns, visit author Kendare Blake's website or connect with her on Twitter. You may also want to check out the awesome book trailer from Epic Reads below. Enjoy!