Stop right now if you haven't already read The Selection, The Elite, The Prince, and The Guard by Kiera Cass. I finished The One, the final book in this series, last night, and I'd hate to give anything away if you haven't read any of the previous books yet! (FYI: The Prince and The Guard are Selection short stories. It's not totally necessary to read them before reading The One, but it does help to put certain elements of the series in perspective.)
What can I say about The One without giving too much away? I honestly don't know. I'm kind of flying by the seat of my pants here. I started reading this highly-anticipated book two nights ago, and I proceeded to devour it. I finished it last night, so I've had just a little while to process things. (I did dream about it last night. That was kind of weird.) Anyhoo, I'm not entirely sure how I feel about what transpired in this book. Did it end the way I expected it to? Partially. Were some curveballs thrown my way? Um, yeah.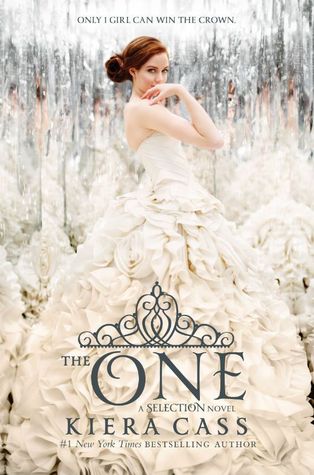 In The One, readers are once again swept away into the world of America Singer. America is now in the top four of the Selection, and, though she knows the king despises her and would be glad to see her leave, Maxon, the prince and heir to the throne, wants to keep her around. Does he love her? Well, he's never said so…but, then again, neither has America. America is never quite sure where she stands with Maxon, and she's hesitant to give her heart to him if he's considering choosing someone else to be his future queen.
America is also holding on to her past. Her former boyfriend, Aspen, is still in her thoughts. With Aspen being a guard at the palace, it's hard to separate from her past and look toward a possible future with Maxon. And what if Maxon doesn't choose her? Should she throw Aspen aside when he could be the one she needs when the Selection is over? Is that thought even fair to Aspen, Maxon, or herself?
Added to the pressures of the Selection and her own confusing feelings, America and Maxon have also become embroiled in a quest to change things in the kingdom of Illéa. The Northern rebels seek to form an alliance with Maxon and America, but that could mean thwarting the king…and possibly ensuring that America win this competition for the crown. America is also about to realize just how deep the rebellion against the tyrannical King Clarkson goes…
Turmoil reigns in Illéa, and soon everyone has to decide what side they're on. Secrets are revealed, lives are lost, and everything is about to change. Will the rebels succeed in their mission? Will the caste system in Illéa finally see its end? What could that mean for Maxon and the girl chosen to be his future queen? Will that queen be America, or will circumstances–both in the rebellion and of America's own making–endanger her chances of becoming the Selection winner…and claiming Maxon's heart forever? Does America really have a chance to be the One?
_______________
Before I get to any issues I had with this series finale, let me say that I did enjoy this book. Most of it was fairly satisfying. (It must have been, or I wouldn't have zoomed my way through it in less than 24 hours.) I found myself anxious, mad at times, and hopeful for a happy ending. And while all of the ending wasn't exactly happy, I think the series ended the way it was supposed to.
All that being said, I did feel like things were a little rushed at the end of The One. I had about 30 pages to go, and I thought there was no way things could be resolved before the book's conclusion. I was wrong, but it seemed like there could have been a little more explanation of what happened during the events in those last pages. (I won't tell you what happened in those pages, but I will say that Kiera Cass packed A LOT of action into a small fraction of the book.)
Also, if you found America to be kind of wishy-washy in The Elite, you're in for more of that in The One. I wanted to scream at her to get over herself sometimes, but I also kind of got why she was so back and forth. She was under immense amounts of pressure, and things definitely didn't get easier for her in this book. If anything, her life was much more complicated, and that included her love life. I think a certain amount of confusion is understandable.
All things considered, I found The One to be a fitting conclusion to this wonderful series. (And I'm not even talking about the addition to the series' stellar covers.) It was an emotional read, and I think fans of the series will be happy with the way things ultimately ended…if not the path taken to get there.
For more information on The One, the entire Selection series, or author Kiera Cass, visit the author's website, Twitter, or Facebook. Also, if you missed the book trailer for The One, you can check that out below. I hope you've enjoyed America Singer's journey as much as I have!