Last year, at YALLFest 2013, I heard a charming, entertaining author speak*, and I've been meaning to pick up her books ever since. That author is Myra McEntire, and I finally made time to dive into Hourglass, her first novel, this weekend. It didn't take long for me to get sucked into the world created by Ms. McEntire, and I can hardly wait to read more. (There are now three books in the Hourglass series, and I plan to devour the others during my upcoming holiday break. Woohoo!)
*I should also note that Ms. McEntire was so entertaining that I recommended her as a guest author at the annual conference of the South Carolina Association of School Librarians. Wonder of wonders, she accepted SCASL's invitation, so I'll get to see her once again in March!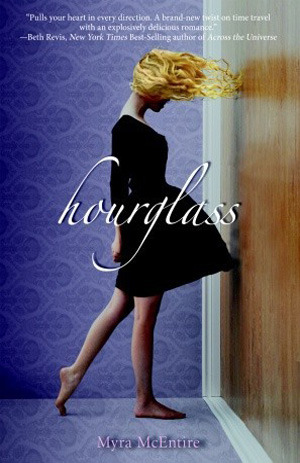 Emerson Cole is not exactly a typical seventeen-year-old girl. In fact, almost nothing about Emerson is what one would consider "normal." When her name pops up, "crazy" is the word most often used to describe this troubled girl.
And why is Emerson so troubled? Nothing big, really. She simply sees ghosts of the past nearly everywhere she goes, she's traumatized by her parents' deaths, and she's recently decided to go off her meds because they make everything feel all fuzzy. Emerson has tried nearly everything to help herself cope with the strangeness that is her life, but she's never really thought about embracing what makes her different. At least, not until Michael enters her life…
Michael Weaver, a guy not much older than Emerson herself, works for an organization known as the Hourglass, and he's been hired by Emerson's older brother to help her through some of her issues. What her dear brother doesn't know, however, is that the mysterious Michael hasn't come into the picture to make Emerson "normal;" he's here to show Emerson the true depth of her power.
Soon after meeting Emerson, Michael explains that her encounters with ghosts are much more than what they seem. They are, in fact, ripples in the fabric of time, and Emerson has the unique ability to actually travel to the past, even change things if she wishes to. Michael wants to help her do just that.
Emerson is soon dealing with some fairly unbelievable information, things that make her question everything she thought she knew about herself and the universe. And as if that's not enough, she's also confronting some pretty inconvenient feelings for Michael. There's this weird electrical charge whenever they touch, and their pull toward each other is undeniable, but Michael rebuffs her at every turn. Why? Is it simply because her brother hired Michael to help Emerson? Or are there other things–other people–getting in the way of a possible relationship between Emerson and Michael?
As Emerson learns more about herself, her abilities, her past, Michael, and the secretive Hourglass organization, she comes face-to-face with some truths that are at once horrific and seemingly impossible. Does she really have the power to change her fate and that of those around her, or have other forces already manipulated Emerson's life and abilities to achieve their own ends?
Well, as they say, time will tell…
_______________
Hourglass really puts a different spin on the whole time travel concept, and it's one that I think a lot of readers will enjoy. There's way too much time travel fiction out there that just glosses over the physics behind the concept. This book doesn't do that. It actually takes a look at things like the space-time continuum and how changing one thing in the past could have devastating consequences in the present and future. The science nerd within me is rejoicing over this…and trying to decipher what the book's conclusion could mean for time itself.
Aside from all of the time travel stuff, Hourglass has a flawed, totally relatable protagonist. Emerson is far from perfect. She has huge errors in judgement all the time, but I truly believe that her heart is in the right place. She wants to do the right thing, but it's not always clear how to do that. And when she finds herself floundering, she does what so many YA characters don't–she talks to the adults in her life, tells them the truth about her situation, and listens to (even if she doesn't always follow) their advice. Also, she's like a mini-ninja, so that makes me like her even more.
So, we've got time travel, and we've got a likable main character. What am I forgetting? Oh yeah! The totally infuriating (in a good way) love story! The push-pull between Emerson and Michael was both wonderful and exasperating. Every time I thought they were about to confess their feelings for each other, I was thrown for a loop. (So was Emerson, by the way.) I didn't know which way to turn, or even which way I wanted to turn. And when another swoon-worthy guy entered the picture, I was even more confused. Who should Emerson really be with? Should she be with anyone? It's all very confusing…for both Emerson and the reader. And the book's resolution, while it does kind of resolve this one big thing, also makes it clear that Emerson's immediate future will likely be anything but moonlight and roses.
_______________
If you're looking for a riveting YA read, I urge you to give Hourglass a try. I hope you enjoy it as much as I did.
For more information on Hourglass, its sequels, and Myra McEntire, check out the author's website, Goodreads, and Twitter. Ms. McEntire is also a contributing author in the holiday anthology My True Love Gave to Me, so you may want to give that fabulous book a read as well!