Thanks to NetGalley, I've been introduced to the first book in what is sure to be a fantastic series for middle grade readers. This book is Bad Magic by Pseudonymous Bosch, and it's due for a September 16th release.
Bad Magic is full of snark and humor, and it also parallels one of my favorite plays, The Tempest by William Shakespeare. All in all, I'd say this book is a must-purchase for libraries that serve middle grade readers.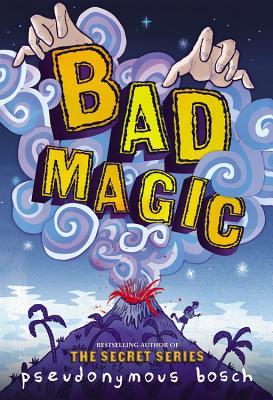 Clay hates magic. One day, he writes his feelings for magic in his journal, and his words–Magic Sucks!–mysteriously (or magically) appear on the side of a building at school. Of course, all fingers point to Clay, and even though he knows he's innocent, he's sent away to Earth Ranch, a wilderness camp for troubled youth.
Almost immediately, Clay realizes that things are kind of weird at Earth Ranch, which is located perilously close to an active volcano. There's the llama that only responds to Spanish, the swarms of bees that simply don't behave like they should, and the vog (volcanic smog) that makes everything just a little spookier.
Things get even stranger when Clay learns of the seemingly haunted–and off-limits–library that has all but been abandoned. Of course, like any curious kid presented with a mystery, Clay has to investigate this library, and his quest for answers leads him on a journey that makes him question everything around him…including the reason he was sent to Earth Ranch.
What is really going on at Earth Ranch? Is anyone who they seem to be? Why is this camp so much like a play he was reading in school? Is Clay just imagining the connections, or is he really living out a Shakespearean play? Is that crazy, or is someone trying to get Clay to believe in magic once again? If so, who?
Nothing makes sense for Clay, and his search for the truth will only give him more questions. Can you figure out what's really going on before Clay does? Jump into Bad Magic to find out!
_______________
I had hoped to add Bad Magic to my elementary library collection, but I think some of the humor is just a little too mature for my students. Middle grade readers, though, will eat up all of the sarcasm and gross humor in this book. (I've taught middle school before, so I know snark and potty humor is the first language of most 6th-8th graders.)
I don't know why, but I tend to enjoy novels with funny, informative footnotes. I got those in Bad Magic. These footnotes added to the humor in this novel, but they also provided readers with information on things they may not be totally familiar with…like popular 70s TV shows, for example. I don't know how it will look in the print version of the novel, but my digital galley had each of these asterisks as links to the footnotes. (Click on the asterisk, and move to the footnote. Click on the asterisk next to the footnote, and move back to the text. Easy-peasy.) I'm hoping that the print version will have the footnotes at the bottom of each page so that reading this added info isn't too jarring.
As a fan of Shakespeare, particularly The Tempest, I really appreciated Bad Magic's connections to this too-often-forgotten play. Those familiar with the play may be able to figure out what's going on with Clay much sooner than he does. Bad Magic could also be a fun follow-up to studies of The Tempest. I think students (and teachers) could enjoy comparing the two stories and using what happened in The Tempest to predict what will happen in Bad Magic.
Like I said previously, Bad Magic is a must-have book in middle school libraries, and this book can be purchased on September 16th. If you'd like to learn more about this book and others by author Pseudonymous Bosch, definitely do not go to this website.