A couple of years ago, I read My True Love Gave to Me, a collection of twelve holiday-themed love stories by popular YA authors. It was wonderful. So, when I found out that there would be another anthology, this one devoted to summer romances, I knew I had to read it. I did just that this week.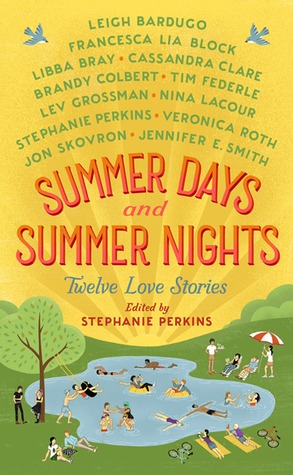 With authors like Leigh Bardugo, Libba Bray, Cassandra Clare, Tim Federle, Stephanie Perkins, Veronica Roth, and others featured in Summer Days and Summer Nights, I figured that I would be getting some outstanding stories in this book. To a certain extent, I was right. Most of the stories were great. Would I describe all of them as love stories? Not really. Many of them had a certain romantic element in them, but, at least in my opinion, that wasn't always the central focus of the story, and the whole romance thing worked better in some stories than in others. In a few, it felt kind of forced to me.
That being said, there were some stories that did stand out for me. The first, In Ninety Minutes, Turn North, comes to us from the anthology's editor, Stephanie Perkins. In this story, we are reintroduced to the characters we first saw in Perkins' contribution to My True Love Gave to Me, North and Marigold. The two have grown apart, and this tale brings them back together atop Mount Mitchell in North Carolina. This story is charming, funny, heart-breaking, and heart-warming, all at once. I honestly think this is the strongest–and most romantic–of all the stories in this book.
I also enjoyed Libba Bray's story, Last Stand at the Cinegore. I think that this one is more of a horror story with a bit of romance thrown in. This tale brings us some teenagers, Kevin, Dani, and Dave, working in a horror movie house, and they're showing a movie that is allegedly cursed. Well, that whole "allegedly" thing is about to be proven to be absolutely true. As it turns out, this movie is a portal to Hell, and Kevin and Dani (with an assist from Dave) have to figure out how to stop the madness this movie is creating while dealing with their own budding romance.
Finally–and this will shock no one–I liked Cassandra Clare's contribution, Brand New Attraction. It like Bray's story, is a horror/love story. It focuses on Lulu, a girl trying to keep her father's dark carnival going. Things are about to go belly up when her Uncle Walter and his stepson, Lucas, come along to–apparently–save the day. But Walter's plans take the carnival from dark to downright evil, and it's up to Lulu and Lucas to figure out what's going on and save the day.
The three stories mentioned above may be my favorites, but most of the others are good in their own right. There's a nice mix of gay and straight relationships featured, we encounter characters from many different backgrounds, several genres are represented, and nothing is especially graphic. I can honestly say I'm relatively happy with all of the stories…except one. Francesca Lia Block's story, Sick Pleasure, is, in my opinion, pretty far from a love story. I guess it stays true to its title, though, since it left me feeling kind of sick at the end.
I'd love to hear others' thoughts on the stories in this anthology. Am I way off base in my feelings on Block's story? What are your favorites and why? And what do you think makes a good love story? Let me know in the comments!