Warning: Read The Eye of Minds before proceeding with this post. Spoilers ahead!
I spent most of yesterday in a reading fog thanks to James Dashner. When I began my day, I was only a few pages into The Rule of Thoughts, book two of Dashner's Mortality Doctrine trilogy. By 9:30 last night, I was finished with the book and moving on to the third installment, The Game of Lives (which will be released to the masses tomorrow, November 17th). So, yeah…I guess you could say that The Rule of Thoughts was just as gripping as the first book, The Eye of Minds.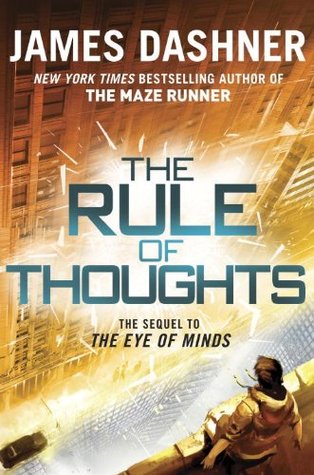 The Rule of Thoughts picks up right where the first book ended. Michael now knows he's a Tangent, a sentient computer program, and he has essentially taken over the body of someone else. He had no say in this process. Kaine, an evil Tangent bent on merging the virtual and real worlds, downloaded Michael into another's body in an effort to further his own agenda, known as the Mortality Doctrine. But just how does Michael fit into Kaine's plan? And is there anything he can do to stop the Mortality Doctrine before it's too late?
As Michael deals with all of the problems that come with inhabiting a strange body in an unfamiliar world, he's also attempting to reunite with Sarah and Bryson, his friends from the VirtNet. He knows that it will take all of them to defeat Kaine…and it still may not be enough.
It quickly becomes clear that Michael and his friends are being hunted by multiple parties, and they don't know who they can trust. They're basically fugitives in the real world, and Kaine is always on the look-out in the virtual world. Is there anywhere they can hide? How can they figure out what's going on–and stop it–without endangering their freedom…or their lives?
Once again, Michael, Sarah, and Bryson are realizing that nothing is what it seems. Kaine is manipulating events and people to further his agenda…but there are some that are fighting against him. Will help come for Michael and company before Kaine's insane plot becomes reality…or is the Mortality Doctrine already taking over?
_______________
I'm going to wrap things up here…before I give too much away. Also, I really want to dive back into The Game of Lives, the third and final (?) book in the series.
I will say, though, that The Rule of Thoughts is an exciting, action-packed read that continues to convince me that I will never be a gamer. It is an excellent book that keeps readers interested from start to finish. Like The Eye of Minds, I highly recommend this to readers in middle grades and up.
For more on The  The Mortality Doctrine, visit the Dashner Army website. You can also connect with author James Dashner on Twitter, Facebook, and Instagram.