Caution: Read both Hourglass and Timepiece before proceeding. This post focuses on Infinityglass, the third and final book in Myra McEntire's Hourglass series, and I promise there will be spoilers for those who are not caught up…and maybe some for those who are.
So…I finally made the time to finish the fantastic Hourglass trilogy this week, and this final book totally delivered. Infinityglass continues the intriguing story introduced in the first book, but it keeps things fresh with two all new narrators. In this book, readers see events through the eyes of Dune, a vital part of the Hourglass organization with his own tragic past, and Hallie, a sheltered girl with the potential to change everything.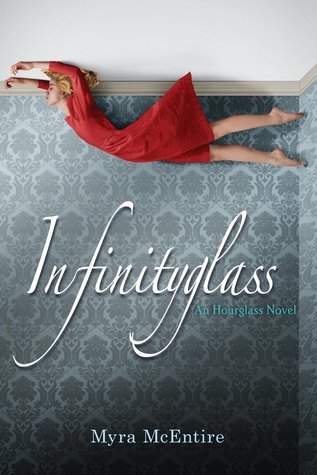 The Hourglass, an organization made up of people with time-related abilities, is working tirelessly to find a way to repair the damage done to the space-time continuum. The ripples in time are getting worse, and they're starting to take over the present. But there may be something out there that can help–the mysterious Infinityglass. This object could fix everything, but the Hourglass must figure out what it is and find it before their enemies do. There's just one huge issue…
The Infinityglass is not a what. It's a who.
More specifically, the Infinityglass is Hallie, a girl living in virtual isolation in New Orleans. Her only escapes come through dance and in the missions she takes on for Chronos, the secretive organization founded by her parents and the more nefarious counterpart of the Hourglass.
Hallie has always possessed the ability to manipulate her cells–transmutation, regeneration, etc.–but lately, things are becoming more intense. Her energy levels are off the charts, she no longer needs to eat or sleep, and she's being pulled into the increasingly common rips in time. Her only real help in determining what's going on comes from Dune, an Hourglass member posing as her new bodyguard.
Dune has been studying the Infinityglass for years, but he never imagined that he would find it in a person, especially a girl so magnetic that he can't stay away from her. Almost from their first meeting, Dune and Hallie connect, and they each reveal things about themselves that they've never shared with another person. They work together to combat the danger facing them, and Dune provides Hallie with more love and support than she's ever encountered in her young life. And Hallie's going to need that support when she learns the horrifying truth about herself, her abilities, and what may need to happen to fix the very fabric of time…
Dune, Hallie, and the other members of the Hourglass are quickly approaching a showdown with those who started this mess, and none of them are truly prepared for what will be revealed…or who is really pulling the strings. But can these young people, all of whom have very special abilities, work together to defeat the evil among them and repair the damage done to time itself? What will Hallie, the Infinityglass, have to do–or sacrifice–to heal time? Do she and Dune have any hope of a future together when the past and present are trying so hard to tear them apart?
Time will tell…
_______________
I must say that Infinityglass is a very satisfying, if somewhat confusing, end to this wonderful trilogy. I didn't always fully grasp what was happening with the ripples in time, but that's okay. Confusion is often a given when you're dealing with time, and this entire series made me feel like I was watching an episode or two of Doctor Who (arguably the greatest show in all of time and space). Both the Hourglass trilogy and the good Doctor make me think, and that's never a bad thing.
The relationship between Dune and Hallie was probably the highlight of this book. Dune was a good guy, a self-professed geek who worked to overcome his own issues with his abilities, and he was a perfect match for Hallie, a sheltered girl who took every chance she had to escape her suffocating existence. Eventually, Hallie came to realize that no matter how scandalous she acted or what she said, Dune would always be there for her. That gave her a freedom to be her true self that she never had before. Similarly, Dune was able to let down his guard and reveal his deepest secrets and fears to Hallie. In a complicated quest for truth, Dune and Hallie found each other and a connection that transcended all of the chaos around them.
(For those wondering if Dune and Hallie had "sexy times," yes, they did. There wasn't anything explicit or gratuitous in the book, but it was apparent that they had a sexual relationship. The same could be said for the couples in both Hourglass and Timepiece as well. Those who are recommending these books to middle grade readers may want to take that into consideration.)
To wrap things up with the Hourglass series, I just have to say that if you're looking for a series that combines romance, teen angst, unexpected humor, and all of the "wibbly-wobbly, timey-wimey" goodness of Doctor Who, then this is the trilogy for you. I hope you enjoy seeing how Michael and Emerson, Kaleb and Lily, and Dune and Hallie work to build their relationships while dealing with their abilities and what they mean for the circumstances at hand. It's a pretty wild ride, but it's one that I think you'll like. I know I did.
For more information on Infinityglass, the other Hourglass novels, and Myra McEntire, check out the author's website, Goodreads, and Twitter. Have fun!