There are a few authors I count on to give me a great story. This past year, Rainbow Rowell earned a spot on that list. In Attachments, Eleanor & Park, and Fangirl, she introduced me to stories I was invested in and relatable, flawed characters that I cared about. I had a feeling her latest book, Landline, would be no different. Once again, I was right.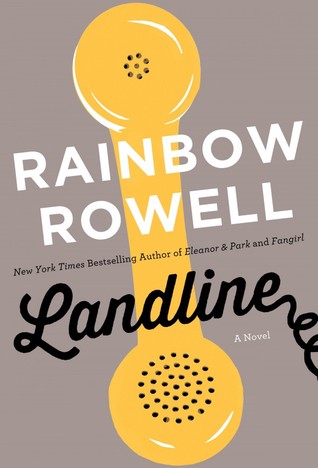 Georgie McCool is a comedy writer on the verge of getting what she's always wanted–a chance to write a show of her own creation. There's a problem, though. She's got to work through Christmas to make it happen. That means staying home while her husband Neal takes the kids and visits his family in Omaha. Neal is frustrated by Georgie's insistence on placing her work above her family, but Georgie just can't pass up this opportunity. Part of her thinks Neal will change his plans and stay home in LA, but he doesn't. He leaves, and Georgie wonders if she's finally ruined her already struggling marriage.
Throughout the next several days, Georgie reflects on her past with Neal–how they met, how they fell in love, and how they got to this point. She knows both of them are at fault, but it doesn't seem like either of them are really willing to change. But they do love each other, and that's got to mean something.
Georgie tries to get in touch with Neal to apologize, explain, beg, whatever, but she can never quite reach him…until she uses an old yellow phone at her mom's house. She finally reaches Neal on this landline connection, but something is a bit off. Georgie soon realizes she's not talking to her husband; she's talking to the young man he was in 1998…just days before he proposed to her.
As one would expect, Georgie freaks out. (Of course she does. I'd freak out too if I were talking to someone back in 1998!) Will talking with Past Neal have some kind of Back to the Future effect? Will she erase her current life, her marriage, her kids? Or is this the chance she needs to get her marriage back on track? Does she even want that any more?
Georgie has some big choices ahead of her. Will she continue to put her needs, her career, and her friends first, or will she use the unbelievable chance she's been given to repair the damage in her relationship with the love of her life? Read Landline, another fantastic book by Rainbow Rowell, to find out!
_______________
First, let me say that I thoroughly enjoyed this book. Like Rowell's other books, I grew to care about the characters, flaws and all. And I honestly think the flaws are what make these characters believable…even in an unbelievable story like this one. Both Georgie and Neal were, at times, completely unlikable. Georgie put her career above everything; Neal was aloof and condescending. These were people with issues, and that's real. Landline isn't some cheesy romance about two perfect specimens who have to overcome outside circumstances to be together. No, this book deals with two real people who have real problems, and they have to work on what's inside to stay together. Yes, the way this happens is rather unrealistic (unless you believe that time is all wibbly-wobbly, timey-wimey), but the work, the self-realization is real.
Second, I feel I must say that Landline is not a YA book. It is, in my opinion, written for adults. Will some teens enjoy it? Probably, but this book deals with a married couple's relationship, and that's not something that (most) teens have experienced. (Of course, I haven't experienced it either, but I still loved the book. I guess I'm saying that a certain amount of life experience is a plus when reading this book. I doubt a lot of teen readers have had to choose between work and family. Even as a singleton, I have had to make that call before.) As a former high school librarian, I doubt I would purchase this book for my school library, but I might encourage Rainbow Rowell fans to seek it out on their own.
Landline is most definitely a must-read for adult fans of Rainbow Rowell. And this particular adult fan is excited about seeing Rowell again at YALLFest in November! If you're in or around Charleston, South Carolina, in November, I highly recommend attending this awesome event. You will not be disappointed!
For more information about Landline and the fabulous Rainbow Rowell, check out her website, Twitter, Facebook, and Tumblr.