As you may know, a new Diary of a Wimpy Kid book was released yesterday. After I voted, I rushed to my closest bookstore and purchased ten copies for my school library. (I'm fully aware that this is probably not enough.) Before I took the books to school, though, I sat down to read this ninth installment, The Long Haul.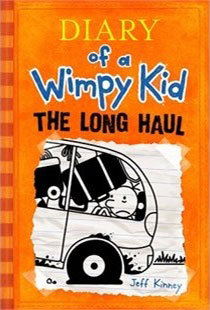 In The Long Haul, Greg Heffley is about to take part in that most dreaded of family activities–the road trip. Greg's Mom thinks this will be the greatest summer activity in the world, and she's billing it as a vacation and learning experience all rolled into one. Well, it's definitely a learning experience, but I doubt dear old Mom had these lessons in mind…
From rundown hotels to lost wallets and cell phones to destructive pigs to unfortunate car mishaps, the Heffley family goes through loads of mayhem and madness on this most epic of road trips. Everything that could possibly go wrong is going wrong on this horrible vacation.
Crammed in the back of the family van, Greg tells readers all about his vacation misadventures, and readers young and old will find it all too easy to sympathize with Greg's plight. (Who hasn't endured a heinous family road trip?!)
Will Greg and his family make it out of this with their sanity intact? Can anything go right for them during this trip? What more could they possibly endure?
Join Greg Heffley on yet another wild ride when you read Diary of a Wimpy Kid: The Long Haul!
_______________
I don't have to do a whole lot to sell this book to my students. Setting it out on the shelf is usually enough. I do plan to tell them, though, that The Long Haul is probably my favorite of the Diary of a Wimpy Kid series. It's just so relatable, no matter what the reader's age may be. I can remember long car rides with my family–my sister and I fighting over the smallest things, my parents getting more irritated by the minute, all of us fussing about my dad's choice in music, having no escape from all the togetherness. Oftentimes, we needed another vacation from our vacation. I think lots of readers–like myself–will be able to see themselves in everything that goes wrong with the Heffleys' road trip.
I'm sure we'll see more of Greg Heffley and his infamous diary in the future. The Long Haul didn't wrap up in a nice, neat little bow, so be on the lookout for another book this time next year.
For all things Diary of a Wimpy Kid, be sure to visit wimpykid.com. For a quick look at The Long Haul, you may also want to take a peek at the video below. You can find loads more videos on the Wimpy Kid YouTube channel. Enjoy!