Danger! Danger! If you're new to James Dashner's Mortality Doctrine trilogy, turn back now. Spoilers ahead. If, however, you've read The Eye of Minds and The Rule of Thoughts and want a quick look at the final installment, The Game of Lives, keep on truckin'.
As you've no doubt gathered, I've finally wrapped up The Game of Lives, the third and final book in the thrilling Mortality Doctrine trilogy by James Dashner. This last book really ramped up the action and suspense, and there were so many twists and turns that I started to get whiplash at one point. That's pretty high praise for a sci-fi adventure book like this one.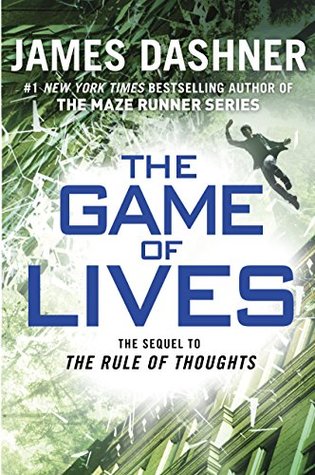 Michael and his friends Sarah and Bryson are once again on the run. They've been manipulated by the very entity, the VNS, that claimed to be on their side. The VNS is still determined to put an end to the Mortality Doctrine* (the brainchild of the vile Tangent, Kaine), but at what cost? What is this organization and their leader, Agent Weber, willing to do–what lies are they willing to tell–to bring Kaine's master plan tumbling down?
*For those who need a reminder, the Mortality Doctrine involves inserting Tangent (sentient program) consciousness into human bodies. It's pretty complicated, but this final book does explain the ins and outs. At least, I think so. I don't pretend to understand all of it. Probably because I'm not a maniacal computer genius.
Michael's not certain exactly what Agent Weber is up to, but he and his friends may have to do the unthinkable–join forces with Kaine–to prevent the agent's machinations. Both Michael and Kaine want to stop the VNS and Agent Weber, but can they work together long enough to bring the organization's horrifying plans to an end?
But what exactly is Kaine's endgame? Is he still hell-bent on enacting the Mortality Doctrine? Why? What could he possibly have to gain from it…and why is Michael so important to his plans? What will happen if Michael and Kaine manage to stop the VNS? Will Kaine then try to do whatever possible to enact his own terrible undertaking?
Can Michael stop two separate–and equally terrifying–enemies from inflicting their wills on the world? What will he lose in the process? Friends? Allies? His own tenuous grip on humanity? Who will ultimately win in this game of lives?
_______________
I've already said too much, so I'm going to begin wrapping things up. I will say that the ending of this book came as something of a relief. When you've been on the edge of your seat for so long, it's nice to finally be able to lean back and breathe–a feeling the book's characters could relate to if they really were sentient. (In a parallel world, they might be. Who really knows?)
I'll be the first to admit that I didn't completely get all of the gaming lingo in the book (and the rest of the series, really), but that in no way detracted from my enjoyment. I continue to maintain, though, that this series only cements my decision to never take up gaming. I'm already fairly paranoid; I don't need to worry that a sentient gaming program is going to take over my brain.
The Mortality Doctrine trilogy is, in my most humble opinion, a good fit for libraries that serve middle grade, teen, and adult readers. If readers are looking for an action-packed sci-fi adventure, these books are highly recommended. Gamers, especially, may gravitate to this series.
Those who read this series may also want to take a look at Gunner Skale, a novella centered around one of the greatest gamers in the VirtNet. We met him briefly in The Eye of Minds, but this short story goes a little deeper (though not as deep as I would have liked). It also gives a look at the beginning of the Mortality Doctrine, the humane ways it was meant to be used, and how that came crashing down.
For more on The Mortality Doctrine and The Game of Lives, visit the Dashner Army website. You can also connect with author James Dashner on Twitter, Facebook, and Instagram. I hope you enjoy this series as much as I did. Happy reading!