Read you must all of Tom Angleberger's Origami Yoda books before proceeding! This is the sixth (and final?) book in the series, and I don't want to spoil things for you…but I will! (I'm extremely in touch with the Dark Side of the Force!) Before picking up Emperor Pickletine Rides the Bus, make sure to read these prequels (which I guarantee are better than the actual Star Wars prequels).
Well, it's been quite a ride. I read my first Origami Yoda book nearly three years ago, and I finished the sixth book last night. As far as I know, Emperor Pickletine Rides the Bus is the last book in this highly entertaining (and thought-provoking) series, but I'm still hoping that this is not the last we've seen of Origami Yoda and friends. To borrow from Princess Leia…
Help me, Tom Angleberger. You're my only hope…
Anyway, Emperor Pickletine Rides the Bus picks up where Princess Labelmaker to the Rescue ended, and the kids from McQuarrie Middle School are in for yet another adventure…one without Origami Yoda!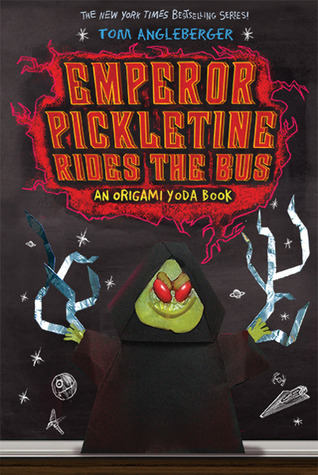 Now that the FunTime Menace is no more, the students of McQuarrie Middle now get to enjoy things like elective classes and, of course, their highly anticipated field trip to Washington, DC. But what will they do when Rabbski, their principal-turned-math-teacher declares that origami–especially Origami Yoda–is off-limits? How will these seventh graders survive without the sage advice of Origami Yoda?!
Have no fear! Dwight is here…with a bunch of Fruit Roll-Ups he folds into Fruitigami Yodas. Unfortunately, the vile Harvey also comes prepared with EMPEROR PICKLETINE, the most evil, sour, and smelly being in the galaxy! Harvey and Emperor Pickletine seem bent on ruining this field trip, and the Dark Side may be more powerful than anyone realized. Is Fruitigami Yoda strong enough to fight this new threat?
As the seventh graders of McQuarrie Middle explore Washington, DC (and get into a fair amount of trouble), a battle is brewing between the Dark and Light Sides of the Force.
Who will win? Will Yoda come through for the Origami Rebellion one more time? Well, I can't say. But I can tell you that this final battle is full of mischief-making, fisticuffs, space food, and even a little bit of smooching! I'll leave it to you to find out who does what!
_______________
What can I say about this series that hasn't already been said? It's opened up so many cool conversations between my students and me. (They are fully aware of my love for all things Star Wars.) I know Emperor Pickletine Rides the Bus will only add to those conversations…though I have to admit I may steer them away from making origami figures with pickles. Yuck!
I realize this may be the last Origami Yoda book–at least for a while–but I think I'll be enjoying this series with my students for many years to come. (I still think we'll see more from Origami Yoda. After all, we never thought we'd get Episodes VII, VIII, and IX of Star Wars either!)
To learn more about all things Origami Yoda, click here. You may also want to check out the video below. May the Force be with you!