If you haven't read C.C. Hunter's Shadow Falls and Shadow Falls: After Dark series, proceed with caution.
This post is going to look a bit different than others. Today, I'll be focusing on Almost Midnight, the Shadow Falls novella collection, which will be released in print on February 2nd. There are five stories in this book, and, prior to being approved to read the compilation via NetGalley, I'd already read four of them–and written blog posts for two.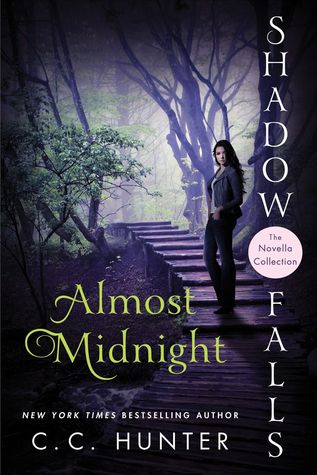 The novellas in this book are:
Turned at Dark
Saved at Sunrise
Unbreakable
Spellbinder
Fierce (This is the brand new story.)
Now, I'm going to take things in chronological order–not the order the stories were published but when they occur in the Shadow Falls world. I'll write a bit on the stories I haven't posted on yet and provide links to the stories–both novellas and full-length novels–I've already written. Let's begin…
---
Turned at Dark (Shadow Falls, #0.5)
This short story is essentially Della Tsang's origin story. Readers get a brief glimpse into what life is like for her before she is turned into a vampire. Della is loyal to her family and her boyfriend, Lee. Everything changes, though, when she thinks she sees her cousin one night–a cousin who's supposedly been dead for a year.
This leads Della into a terrifying confrontation with some werewolves. Her cousin, Chan, saves her, but he also activates the dormant vampirism virus within Della. After that, Della begins to turn, and, though she wants nothing more than to go back to her old life, she must reconcile herself to these new circumstances. She's now a vampire, and nothing will ever be the same.
Born at Midnight (Shadow Falls, #1)
Awake at Dawn (Shadow Falls, #2)
Taken at Dusk (Shadow Falls, #3)
Whispers at Moonrise (Shadow Falls, #4)
Saved at Sunrise (Shadow Falls, #4.5)
Della Tsang returns for more fun in this novella. In this story, Della is being given her first mission from her mentor, Burnett. She's eager to prove herself, and she's not entirely thrilled that she'll have company on this mission. Steve, a shapeshifter, is accompanying her for her own protection, something Della swears she doesn't need.
Before their assignment gets underway, however, Della sneaks away for a glimpse of the life she left behind. She sees her family happy without her, and she runs into her ex-boyfriend–enjoying a night out with his new fiancée. Della is at a loss for words when she comes face-to-face with Lee. Luckily, Steve–the back-up she swore she didn't need–steps in to save the day.
As it turns out, Della needs Steve for more than just a way to save face with Lee. When she and Steve finally get to their mission, they realize that it's more dangerous than either of them–or Burnett–could have possible predicted.
But what if a rogue vampire den isn't what's really dangerous here? What about the danger that Steve poses to Della's heart?
Chosen at Nightfall (Shadow Falls, #5)
Unbreakable (Shadow Falls: After Dark, #0.5)
Reborn (Shadow Falls: After Dark, #1)
Eternal (Shadow Falls: After Dark, #2)
Spellbinder (Shadow Falls: After Dark, #2.5)
Unspoken (Shadow Falls: After Dark, #3)
Fierce (Shadow Falls: After Dark, #???)*
*I'm not entirely sure where this one fits in the Shadow Falls chronology. Some of the action in the story seems familiar, so it may take place within one of the Shadow Falls: After Dark novels. If you can enlighten me, send me a quick note in the comments. For now, though, I'm putting Fierce at the end of the series because it's the latest story to be released.
Fierce takes a look at Fredericka Lakota, a werewolf new to Shadow Falls. The daughter of a rogue were, Fredericka got off to a rough start among the other supernaturals here, but she wants to show them that there's more to her than they know. She finds joy in making beautiful jewelry, and she's trying to make a go of a relationship with Cary, another were at Shadow Falls.
As so often happens, though, things begin to change in Fredericka's life. She realizes that Cary may not be the guy she needs in her life. He doesn't really see her, and she decides to end things. He does not take it well.
Fredericka also lands a coveted spot selling her jewelry in a nearby gallery, and she's oddly drawn to the gallery's owner, Brandon. What is it about this guy? Why does she feel so connected to him so quickly? And what is his connection to the supernatural world?
While all of this is going on, Fredericka also feels the presence of a ghost who needs her help. She's not exactly prepared for this…or much of anything else that's happening around her. Can Fredericka somehow make sense of everything–and learn to trust those around her–before the life she's trying so desperately to build crumbles before her eyes?
---
So that's it. That's all of the Shadow Falls and Shadow Falls: After Dark stories…so far. I probably don't have to tell you that I really like these series. I mean, I've read every single story, and I still come back for more. Sadly, "more" is about to come to and end.
There is one final book in the Shadow Falls world, Midnight Hour. I have no idea what this book will be about or who the primary characters will be, but I do know that it's scheduled to be out this October. You can be sure that I will get my hands on it as soon as humanly possible.
If, after all this, I still haven't given you enough information on the Shadow Falls series, check out C.C. Hunter's website for more.
I'll close this post with just two little words…
GO BRONCOS!!!