Last year, I read Rump: The True Story of Rumpelstiltskin, and I immediately became a fan of author Liesl Shurtliff's work. I promoted Rump to my teachers and students, and every copy of this book stays off my library shelves. (It didn't hurt that Rump was a nominee for the 15-16 South Carolina Children's Book Award and also served as one of my district's Battle of the Books titles.)
Shurtliff's second fairy tale retelling, Jack: The True Story of Jack & the Beanstalk, is almost as popular as Rump. In fact, Jack is so popular that I haven't had a chance to check it out for myself yet. So when NetGalley gave me the opportunity to read Shurtliff's latest book, Red: The True Story of Red Riding Hood, I jumped at the chance.
Those who've already read Rump know a little about the Red we meet in this novel. (She was Rump's best friend, after all.) She is not like the Little Red Riding Hood we've grown up reading about. She is no sweet little miss who mistakes her grandma for a wily wolf. No, this girl is grumpy, self-sufficient, and crafty in her own right. But in Red, this young girl must face her fears while attempting to figure out what really makes someone into a monster.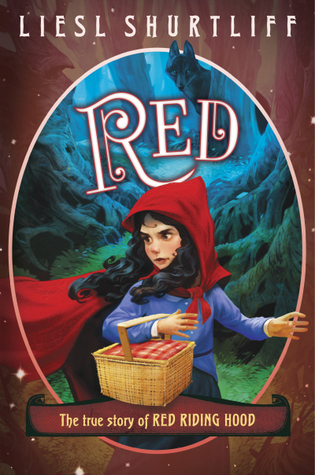 Red's favorite person in the world is probably her granny. Some people call Granny a witch, but Red knows that Granny does whatever she can to help others. She's even tried to help Red control her own magic, but that usually doesn't end well. When Granny gets sick, Red vows to do whatever she can to find a cure for Granny's illness, something to ensure that Granny will live forever.
In her quest for a cure, Red meets another young girl searching for a magical elixir of her own. Goldie (better known to you and me as Goldilocks) is a hyper, chatty girl who Red finds annoying. Red tries to lose Goldie in the Woods, but a dangerous encounter brings the two girls together, and a rather unlikely friendship begins to form.
Now, the two girls are working together to find something that will help Granny. They enlist the assistance of a rather reluctant dwarf who leads them to some possible "cures." But Red learns quickly that these magical cures come with a price, a price she may not be willing to pay…even if it means making Granny well again.
Throughout this quest, Red also finds herself growing closer to Wolf. She and this lonely animal share a special connection, and she soon realizes that he's dealing with his own problems, namely a Huntsman who is feared above all others in the Woods. Red is familiar with the Huntsman and does not see him as a threat…until she and her friends get in his way.
Can Red, Goldie, and Wolf escape the trouble following them? What will they encounter along the way? Will Red be able to find what she needs to help her Granny and face her own fears in the process?
Forget what you think you know about Little Red Riding Hood and learn the real story when you read Red by Liesl Shurtliff!
---
If possible, I think I love Red even more than Rump. Red is an awesomely complicated character who shows enormous growth throughout the course of the book. She goes from a grumpy, annoyed loner frightened of her own magic to a slightly less grumpy friend who faces her fears and is confident in her abilities.
As if Red herself isn't a big enough deal, don't even get me started on all of the wonderful appearances from familiar characters. We have references to Goldilocks and the Three Bears (of course), as well as Snow White (who may not have been as beloved by the seven dwarves as previously thought), Rumpelstiltskin, Sleeping Beauty, and a fantastic twist on Beauty and the Beast. I'm sure there are more allusions, but I just can't recall all of them right now. Suffice it to say, though, that readers will delight in making these connections, and they'll learn that there may be more than one side to their favorite stories.
Red will be released to the masses next Tuesday, April 12th, and I've already got students asking me when we'll have the book in the library. (I guess I'll be making a run to the closest bookstore after school next Tuesday.) Most of those students have already read Rump, so I predict they'll be equally–if not even more–charmed by Red, and they'll probably want to know when to expect the next offering from Liesl Shurtliff. (I wish I had the answer to that question myself.)
For more information on Red and other works by Liesl Shurtliff, you can connect with the author on her website, Twitter, Facebook, and Goodreads. Also, check out the Red book trailer below. It covers a couple of things that I kind of glossed over in this post…and it's really well done!